New York (CNN Business)In a matter of weeks, remdesivir has gone from a shelved, failed hepatitis C treatment to the center of a national effort to treat patients suffering from Covid-19, the illness caused by the novel coronavirus.
The situation has thrust the pharmaceutical company behind the experimental drug, Gilead Sciences (GILD), into the spotlight. The company's stock is up nearly 20% from the start of this year, and investors have begun to wonder about potential returns from remedisivr. At the same time, it has sparked questions from lawmakers and activists about whether — and just how much — a company should be able to profit from a pandemic.
Still, experts caution that it's far too early to tell if remdesivir will be an effective treatment for Covid-19, and one worth paying for. Even if it is, there is enough uncertainty surrounding the trajectory of Covid-19 that it will be difficult to determine whether the drug has long term business potential for Gilead.
Gilead CEO Daniel O'Day said on the company's first quarter earnings call this week that "it's too premature" to tell what the business model for remdesivir might be.
"Our focus will be on making sure we come up with a sustainable model that allows us to provide remdesivir to patients around the globe, that is intent on providing access and affordability," O'Day said. "We're just now going through the clinical data, the demand scenarios, the regulatory approvals."
Experts say it is important for the company to strike a balance between pricing the drug affordably and making at least enough money to recoup the $1 billion it plans to spend on development costs for remdesivir this year. The price could also be important for incentivizing Gilead and other drug companies to continue developing potentially crucial treatments.
"They need to have some sort of assurance that they will recoup their investments," Piper Sandler analyst Tyler Van Buren said.
There are currently no treatments or vaccines officially approved by the US Food and Drug Administration for Covid-19, the virus that has now infected more than 1.2 million Americans and killed more than 73,500 in the United States.
A promising potential Covid-19 treatment
Earlier this month, the FDA issued an emergency-use authorization for the use of remdesivir to treat hospitalized patients with severe Covid-19, after a government study showed positive preliminary results for the use of the drug. An emergency-use authorization is a lower regulatory bar than full FDA approval.
In late April, Dr. Anthony Fauci announced that the National Institute of Allergy and Infectious Diseases' (NIAID) study showed remdesivir had a "clear-cut, significant, positive effect in diminishing the time to recovery" from coronavirus.
The study showed patients who took remdesivir recovered faster than patients who did not. The drug improved recovery time for coronavirus patients to 11 days from 15 and demonstrated numerical benefits to mortality — the number of patients who died of Covid-19 — though there were too few participants to prove at this point that remdesivir reduces mortality with statistical significance.
Gilead also announced topline results from its own Phase 3 trial evaluating remdesivir given to hospitalized patients with severe coronavirus. That study pointed to the potential success of even just a five-day treatment course, though the Gilead-run trial had no control group, limiting the conclusions that could be drawn.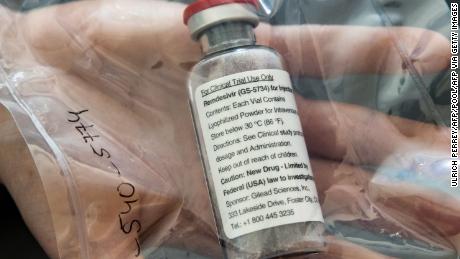 Gilead has donated its existing supply of 1.5 million doses of the drug to the US government to be distributed to Covid-19 patients. O'Day, Gilead's CEO, said on the earnings call the company has been ramping up production since January, and hopes to have enough supply to treat more than 1 million patients by year-end.
The company says it has not yet made a decision about how much it will charge for the drug after the donated supply is depleted.
"Given the continued uncertainty in the trajectory of the pandemic and in remdesivir clinical data, it's premature to define what the right post-donation business model is to create a sustainable long term supply for global needs," CFO Andrew Dickinson said on the call, adding that the company plans to provide an update on its earnings call for the June quarter.
In theory, the drug could be a "blockbuster" for the company, even if it were moderately priced, Raymond James analyst Steven Seedhouse said. If the company's reaches its hoped-for treatment of 1 million Covid-19 patients by year's end and more in 2021 even at a price of several hundred dollars per treatment, Gilead could be looking at close to a billion dollars in revenue in a relatively short time period.
But Seedhouse said he's skeptical the company will charge for its work.
"I think it would be public image suicide for them to charge for this drug," Seedhouse said, especially because, as of yet, no study has shown with any statistical significance that remdesivir reduces mortality from Covid-19 though the NIAID study is still gathering evidence on that. It's also unclear just how long demand for the drug will last, given the race to develop a coronavirus vaccine.
Other analysts have taken a similar stance.
"The company should be commended for its efforts in so quickly addressing this public health emergency," JPMorgan analyst Cory Kasimov said in a recent note."But we still feel it's unlikely to result in tangible, long-term cash flows," JPMorgan analyst Cory Kasimov said in a recent note.
Profiting amid a pandemic
Some lawmakers and activists have called on Congress to intervene to ensure that remdesivir and other potential Covid-19 treatments and vaccines are priced affordably.
"To beat this pandemic, it's clear we need better laws that regulate drug corporations to ensure that everyone — no matter where they come from or what they look like — can afford Covid-19Reme treatments," Minnesota Attorney General Keith Ellison said in a release. "That's why I'm calling on Congress to take swift action to crack down on pandemic profiteering."
Advocacy group Lower Drug Prices Now is circulating a petition that calls on Congress to include in a coronavirus relief package ramifications requiring "fair and reasonable prices for all Covid-19 drugs or vaccines developed with taxpayer funds." Industry experts say such intervention from Congress would be unusual.
Gilead has previously come under fire for high price tags on its hepatitis C and HIV drugs.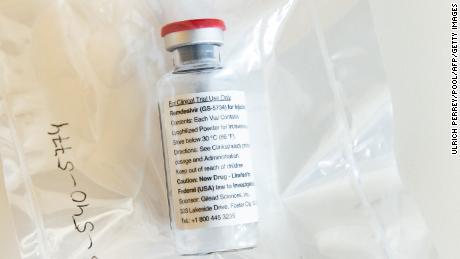 But running up the cost of remdesivir, if it is proven effective in treating Covid-19, could be deeply harmful to Gilead's image, according to Seedhouse. Preserving the company's reputation, he said, may end up being more valuable than recouping the $1 billion it plans to spend this year on development, research and manufacturing work on remdesivir.
"This is a company that spends billions every year anyways on research and development that doesn't pan out," Seedhouse said. "Or is it worth more to be the poster child for a responsible biopharma company that's doing the right thing? … The sentiment and perception of the company matters as much as the EPS they print."
Gilead CFO Dickinson stressed that the company wants to keep remdesivir "both accessible and affordable to governments and patients around the world."
Potential pricing models
Experts say it's important to start the conversation about a fair price for remdesivir now, before Gilead's donated supplies run out and ahead of any official approval.
The Institute for Economic and Clinical Review (ICER), an independent nonprofit research organization that analyzes and makes recommendations on fair drug pricing, released a report earlier this month on potential pricing models for remdesivir.
The report details several potential models for pricing remdesivir, which the organization said will be updated as more data becomes available.
The first model, a "cost recovery" approach, takes into account the marginal cost of producing additional doses of remdesivir, and the research and development costs put in by the company. The initial analysis sets the company's research and development costs at zero, because the drug was developed as a hepatitis C treatment prior to coronavirus.
That model sets the price of one, 10-day course of remdesivir for one Covid-19 patient at $10.
The second uses an analysis based on "quality-adjusted life years" gained by the drug, a model often used for drug pricing that considers how much a medication can lengthen and improve the quality of a person's life.
That model suggests that remdesivir be priced starting at $390 per 10-day course of treatment if the drug is ultimately found to have no mortality reduction benefits, and $4,460 per course of treatment if the drug is found to reduce mortality.
Even that highest price — nearly $4,500 per 10-day treatment — is fairly affordable compared to other, similar types of emergency intervention drugs that reduce mortality, said Van Buren, the Piper Sandler analyst, calling it "one of the most reasonable price tags you can see on a drug with mortality benefits."
For the most part, that amount also would not be paid by patients, but by insurance companies or government insurance programs.
The ICER study is not meant to lay out exact pricing for remdesivir, a decision that will ultimately be up to Gilead, ICER's vice president of communications and outreach David Whitrap said.
"What we're hoping to do is strike a conversation," Whitrap said. "We think now is the time, before there is a price for this treatment, for the US and the pharmaceutical industry to think about how we want to incentivize and reward this sort of therapy, or any sort of therapy for Covid-19, in a way that accelerates drug development and is also affordable and accessible for patients."
Source: Read Full Article