Some of these items of consumption include ultraviolet disinfectants and sanitising boxes, free-finger touch devices, do-it-yourself grooming kits, self-cleaning water bottles, smart tiffin boxes, hand-sanitizer wearables, antiviral fabrics, tiles, flooring and mattresses, and anti-fogging glasses.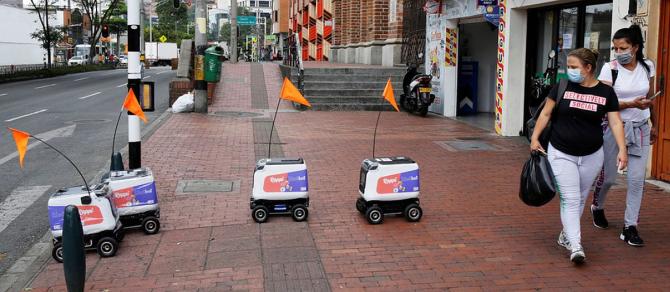 Over the past few months, Megha Ranade, 35, has been worried that the fruit and vegetables she brings home may not be safe for consumption.
Her fears have been triggered in part by the infectious nature of Covid-19, known to spread easily across surfaces.
While she monitors everything that comes home, fruit and vegetables seem to escape this all.
Her search ends at the foot of a fruit and veggie cleaner that she discovers online.
Ranade's experience is something that most people have been through since the pandemic came to India.
The need to tackle the spread of the disease has led to the birth of consumer products that barely existed six months ago.
Some of these items of consumption include ultraviolet (UV) disinfectants and sanitising boxes, free-finger touch devices, do-it-yourself (DIY) grooming kits, self-cleaning water bottles, smart tiffin boxes, hand-sanitizer wearables, antiviral fabrics, tiles, flooring and mattresses, and anti-fogging glasses.
While Nielsen said it was yet to track these categories, according to executives of consumer goods companies, the trend is here to stay.
"The health crisis may remain this way for a while, even as efforts to get a vaccine intensify," said Mohit Malhotra, chief executive officer (CEO), Dabur India, among the first launch a fruit and veggie cleaner in the marketplace.
"People are aware of these challenges and are adopting new habits.
"The result is the need for a new set of products."
Marico's spokesperson said a fruit and veggie cleaner, also launched by the company, came about after it observed a heightened sense of hygiene among consumers.
"We have witnessed healthy traction for our hygiene products such as Veggie Clean and Mediker hand sanitizer and will continue to invest in their growth," the spokesperson said.
Experts are saying the new items visible today span the consumption spectrum from home to personal hygiene, apparel, grooming, and food products.
More items could join the list as companies continue to innovate.
Consider this: Raichur-headquartered pharma company Shilpa Medicare has launched a green tea film as a substitute for tea bags, aimed at making it not only convenient, clean, and easy when preparing green tea, but also boosting immunity.
"We are speaking about a specific component of green tea called epigallocatechin gallate (EGCG), which, research suggests, protects one against viral infection.
"Our green tea films have 60 per cent EGCG content," said Vishnukant Chaturbhuj Bhutada, managing director (MD), Shilpa Medicare.
Century Ply has launched plywood and laminate products that claim to kill viruses, while Duroflex has an antiviral mattress protector made with Swiss technology and Welspun antiviral floorings certified by a US laboratory.
Nimisha Jain, MD and partner, Boston Consulting Group, is of the view that consumer behaviour can be classified into three broad buckets.
"This includes accelerators, reversables, and wild cards," she said.
Accelerators are those habits that existed earlier, and have received a fillip now, she said.
This includes digital adoption and health and wellness, including embracing a healthy lifestyle and eating habits.
Reversables are those that could come back once the pandemic subsides, such as out-of-home eating, while wild cards are those sets of behaviour that have become an important constituent of one's life such as hygiene habits and DIY skills.
According to Jain, habits in the wild-card bucket are unlikely to reverse, implying marketers in these categories have a new set of consumers.
This point is endorsed by Gulbahar Taurani, vice-president, personal health, Philips (Indian subcontinent), who has introduced a series of products in the grooming and kitchen appliances segments in the past few months.
He said: "Consumers are increasingly being introduced to DIY beauty and skincare routines at home in these difficult times.
"We continue to see a surge in demand for all these products, driven by growing awareness around personal hygiene.
"Additionally, in-home cooking has increased, prompting the use of kitchen appliances like never before."
Titan Eyeplus, the eyewear division of the company, has been aggressively advertising its anti-fogging glasses, a need that hardly existed before the pandemic began.
Saumen Bhaumik, CEO (eyewear division), Titan, said: "As long as you have to wear a mask and glasses, an anti-fog lens is a clear necessity."
Kamal Nandi, business head and executive vice-president, Godrej Appliances, said UV sanitizing boxes were also the result of a felt need triggered by the pandemic.
"The need to sanitize whatever gets into the home is something that will not go away even after the pandemic has left us.
"Like washing hands, which is now ingrained in people, this habit (of sanitizing everything) will stick on, which is why we launched a 30-litre cubicle box that can sanitize most products at home."
Clearly, consumer goods companies have new avenues of growth available to them.
Photograph: David Estrada/Reuters
Source: Read Full Article