As a customer, there are a few things every ATM user needs to know that will help them tackle unfortunate situations, suggests Bindisha Sarang.
There are many things that the banks in India get right; seamless ATM transaction experience is certainly not one of them.
According to Reserve Bank of India's Annual Report of Ombudsman Schemes released last week, ATM/debit cards related complaints have increased from 24,672 in 2017-2018 to 36,539 in 2018-2019 — a rise of 48 per cent.
While India strives to become a cashless economy someday, the rising trend in complaints is worrisome.
As a customer, there are a few things every ATM user needs to know that will help them tackle unfortunate situations.
Account debited, but cash not dispensed
The biggest culprit according to the RBI report: "Of the total number of ATM / Debit Cards complaints, a significant sub-category was 'Account debited but cash not dispensed by ATMs' which accounted for almost 53 per cent of the ATM-related complaints."
Imagine being in an ATM centre, making a transaction, getting an SMS that the money has been debited, but not getting any cash.
What should be done in such a case? An official of Indian Overseas Bank says, "The customer should give a request at the branch, he can even inform via the bank's call centre and over the website."
RBI rules says that banks have to credit this wrongly debited amount into your account within a stipulated time from the date of your complaint.
RBI issues a circular on September 20, 2019, on the harmonisation of Turn Around Time (TAT) and customer compensation in case of failed transactions.
Amitabh Bhatnagar, Head-Business Banking, ATM and Debit Cards, RBL Bank says, "The latest guideline from RBI prescribes a timeline of T+5 for banks to refund the client, where T is the day of the transaction. Beyond this time a daily penalty is levied to the bank of Rs 100 per day. This penalty needs to be paid by the bank to the customer irrespective of customer reporting and or lodging a complaint with the bank. The bank needs to reconcile its records and accounts and ensure payment against the delay is credited in an appropriate time."
So make sure you get in touch with the bank and let them know regarding the issue, and follow up of you don't get your money within the time frame.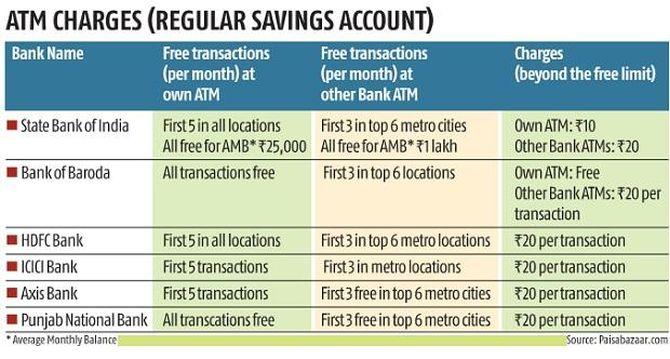 Charges and strategy
The next thing every ATM user needs to know is regarding the ATM charges.
Mostly the transaction charges for ATM use is linked to the type of bank account one has.
For instance, most high-end accounts come with free unlimited ATM transactions, while other account variants have limits defined concerning free transactions.
Bhatnagar, says, "From a pricing control perspective RBI has defined base number of transaction that a bank must be offered free, for example in the top metros, the floor limit is three free transactions."
In rural and underbanked areas, the floor limit is higher.
The maximum fee which can be charged is Rs 20 Naveen Kukreja – CEO and Co-founder, Paisabazaar.com: "Debit card users should use digital mode of payment such as e-wallets, internet banking, IMPS and UPI, to the extent possible. This will reduce the use of cash payment, which in turn will decrease the chance of breaching free limits on ATM transactions. Additionally, those having multiple savings accounts should spread their ATM withdrawals across various savings accounts to take advantage of higher cumulative free ATM withdrawals. This would prevent them from exhausting free ATM limits, hence, saving on ATM withdrawal charges."
With NEFT becoming free of cost post-January 1 2020, you can always transfer funds from one account to another and make the most of free ATM transactions, for cash withdrawal.
Transact safely
Be mindful while using the ATM.
Mayur Joshi, a Pune-based cybersecurity expert, says, "Skimming is seen to be the trending fraud type in 2019 in India. Consumers need to be educated, if anything about the card reader or PIN pad looks different or unusual or seems loose to the touch, or if the consumer sees a sign asking them to swipe their card in a second reader, don't use it. Don't even remove it, report it."
An Indian Overseas Bank official says, "Ensure you do the transaction yourself at an ATM.
"Never write down the PIN, nor share PIN or OTP with anyone.
"And never forget to collect cash and the card after the transaction is done.
"In short, be alert while the transaction is going on, never take help from strangers for using the ATM card or handling your cash.
"Always press the 'Cancel' key before moving away from the ATM."
Rustom Irani, MD and CEO of cash business, Hitachi Payment Services says, "Insert card only when the card reader light is flashing. Always cover the keypad with your hand while entering the PIN. And, always wait till the transaction is fully complete before leaving the ATM."
Check for any external cameras pointing directly towards the keypad including micro-camera above the PIN pad.
Bhatnagar, says, "Shoulder surfer" can peep at your PIN as you enter it. So stand close to the ATM and use your body and hand to shield the keypad as you enter the PIN."
In short, see if anyone is looking over your shoulder.
If you are using the ATM for depositing a cheque or card into your ATM, check the credit entry in your account after a couple of days.
And remember that all your old magstripe debit, credit cards will be invalid by December 31 by a new EMV/chip-based card.
Source: Read Full Article