With its new line-up, the firm has managed to touch the right chords, but to regain market share from the established players, Micromax will have to fight a protracted battle.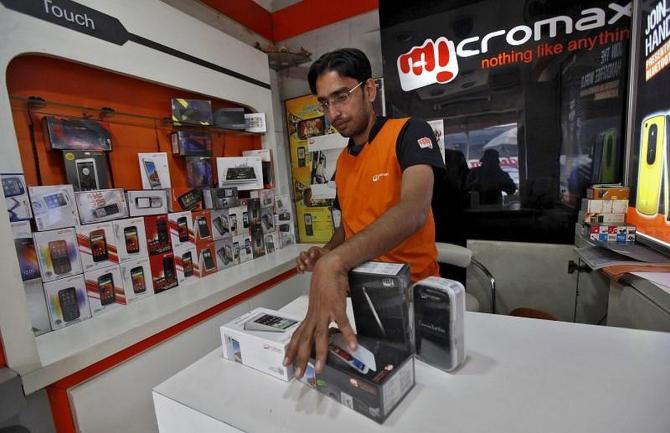 Rahul Sharma has transformed himself in the service of his brand.
Till recently, the media knew the co-founder of domestic consumer goods maker Micromax as a suave, English-savvy executive.
Now, as he tries to revive his company's mobile handsets business on a patriotic, nationalist platform, he appears to have discovered a fondness for Hindi.
div id="div_morelike_topic_container">
In his latest interview to Business Standard, he spoke entirely in his mother-tongue.
"Aaj mobile phone sirf phone nahi hai, yeh ek important tool bann gaya hai hamare liye jisme hamara sara data rehta hai. Aur humne hamara sara data inh Chinese ko de diya hai. Khuda na kare agar aage kuch ho jaye, aap samajh ke dekho ke woh kya kar sakte hain iss data ke sath! (Today, the mobile phone is more than just a phone; it's become an important tool in which all our data is stored. And we have given this data to the Chinese. God forbid if we have some problems with the Chinese, imagine what they can do with this data)."
Sharma's new approach for Micromax banks heavily on the political mobilisation against Chinese brands and the Indian government's recent initiatives to sideline them after the Chinese military's incursions across the Line of Actual Control in Ladakh.
He has a particular reason to focus on them, too: It was the Chinese brands Xiaomi, Oppo and Realme that blew Micromax out of the smartphone market a few years ago.
Now Micromax hopes it has drawn first blood with its riposte when it launched two smart devices.
Sharma, who considers the aggressive pricing by Chinese giants as a key factor that cornered Micromax by 2016, wanted to repay them in their own coin.
"We will not only match their pricing but will beat them," he said before the launch.
IN Note 1, a large 6.67-inch smartphone with 4GB RAM, targets consumers in the largest market segment by volume — the affordable segment (Rs 10,000-15,000).
Note 1B, an entry-level device (starting Rs 6,999), has been introduced to capture the growing demand from e-learners and lower income households post the pandemic.
Micromax, however, has a long journey ahead before it can reclaim lost ground in the respective price segments.
Note 1B is up against the recently launched Samsung Galaxy M01 Core at Rs 5,999 and Redmi 9A from Xiaomi at Rs 6,799.
For Note 1, there are dozens of models available in the market.
But their pricing is on a par with or a little better than the Chinese brands.
According to experts, with its new line-up, the firm has managed to touch the right chords, but to regain market share from the established players, Micromax will have to fight a protracted battle.
"Gaining even five per cent share in the smartphones market means snatching bites from the top Chinese players. And that's not going to happen overnight," said Navkendar Singh, research director at IDC.
Since their India debut in 2014, Vivo, Oppo, Xiaomi, OnePlus and Realme disrupted the market and cornered all other brands, including Samsung (by 2019).
No surprise, Micromax saw its share of the smartphone market fall from 20 per cent in 2014 to below 5 per cent by 2017.
Revenues shrank from a high of Rs 10,450 crore in 2014-15 to less than Rs 2,500 crore in 2018-19.
The spending capabilities of Chinese brands in research and development, design and cut-throat pricing strategies remains unmatched.
Experts say Micromax needs to invest heavily in R&D to stake a claim in this market.
Further, the billions of rupees that Chinese brands spend every year on branding and promotion could be a party spoiler.
From team India's jersey rights to being the lead sponsors for popular sporting events such as the Indian Premier League and Pro-Kabaddi League, brands like Vivo and Oppo have enjoyed the limelight like few others.
Sharma is well aware of these obstacles.
Micromax's Rs 500-crore investment proposal that was recently approved under the government of India's Production Linked Incentive (PLI) scheme aims to boost its R&D capabilities.
Micromax plans to launch at least one device every two months, and Sharma promises to revive the old aggression.
"Abhi aap woh purana-wala aggression phir se dekhoge," he said.
Micromax has two factories — in Bhiwadi and Hyderabad — with a capacity of over 2 million phones per month.
With the expansion in the local component production ecosystem in the past few years, a range of parts such as speakers, batteries and so on is being manufactured locally, which saves cost.
Micromax plans to source all available components locally, though some critical inputs (such as printed circuit board) will have to be imported.
Sharma says though Micromax was absent from the market for three years, it has been manufacturing and supplying to wholesale buyers.
Last year, for instance, it supplied 5 million smartphones to the Chhattisgarh government.
But matching the big bucks Chinese firms have been spending on promotion is off the menu.
Sharma agrees with market experts who believe combating Chinese brands on this front is not feasible for most other brands in the market.
Instead, he is banking on the anti-China mood among consumers.
"Given the anti-China sentiment that prevails in the country, we will not have to spend the kind of money that these guys are spending now," he said.
He's banking on the PLI scheme, which extends financial incentives for certain goods (mobiles being one of them) manufactured in and exported from India to help his comeback.
The six per cent incentive on incremental sales that it will receive from now on will help it keep prices competitive, he thinks.
Faisal Kawoosa, lead analyst at TechArc, said bagging approval under PLI is a good start for the firm that once used to dominate the local smartphones market along with Samsung.
"They have charted the path with plans to enhance manufacturing capabilities. But finding enough consumers will not be an easy task.
"In spite of the sentiment and related issues, Chinese players continue to enjoy the trust of consumers as they have satisfied millions of phone buyers over the years."
Still, Sharma thinks he has a winning strategy: "Hume Bharat ko ek legitimate option dena hai, (we need to give India a legitimate option against Chinese brands)."
Photograph: Rupak De Chowdhury/Reuters
Source: Read Full Article