video
Fire erupts on Maryland interstate after tanker truck crash
A tanker truck overturned in a fiery wreck in Pikesville, Maryland, Friday morning. (Clifford Gambrill / LOCAL NEWS X /TMX)
A tanker truck carrying heating oil burst into flames Friday morning following a crash along Interstate 795 in the Baltimore area, sending thick plumes of smoke billowing into the sky. 
The fiery wreck happened near Owings Mills and officials are urging drivers to stay away from the area as "this incident is expected to impact traffic for an extended period." 
"Units were dispatched just before 6 a.m. to I-795 between Owings Mills Boulevard and the Beltway for a motor vehicle crash with fire. Crews found an 8,500-gallon tanker truck on fire," the Baltimore County Fire Department said in a statement. 
"Firefighters freed the driver from the truck, and EMS crews transported him to the R Adams Cowley Shock Trauma Center in serious condition," it added. 
6 MARYLAND HIGHWAY WORKERS KILLED WHEN ACURA FLIPS IN BALTIMORE WORK ZONE 
Fuel from an overturned tanker truck burns on northbound Interstate 795 in Pikesville, Maryland, on Friday, March 24. The driver of the vehicle has been hospitalized in serious condition following the wreck. (Jerry Jackson/The Baltimore Sun via AP / AP Newsroom)

First responders managed to bring the blaze under control and are now "working at the scene with the Maryland Department of the Environment to contain the diesel fuel and clean up the roadway," the department also said. 

Fire officials also said "Metro service to Owings Mills has been suspended as a result of this incident." 

As of midday Friday, I-795 northbound remains closed following the accident. The truck was carrying heating oil, authorities told The Associated Press. 

Maryland State Police say no other injuries were reported and the cause of the crash remains under investigation. 

The incident happened just minutes away from where six Maryland highway workers were killed Wednesday after a vehicle plowed through a construction zone on Interstate 695. 

MISSISSIPPI CAR CRASH KILLS 4 CHILDREN, 1 ADULT 
Smoke from the crash along Interstate 795 can be seen rising into the air. (Jerry Jackson/The Baltimore Sun/AP / AP Newsroom)

That accident happened following a collision that occurred between two vehicles while one was trying to change lanes, according to the Maryland State Police.  

"Emergency medical service personnel pronounced six people deceased at the scene," Maryland State Police said in a statement, identifying the driver involved as Lisa Adrienna Lea, 54, of Randallstown.  

"The preliminary investigation indicates the driver of the Acura, later identified as Lea, was traveling in lane 2 at about 12:40 p.m. this afternoon when she attempted to change lanes," police said. "As Lea attempted to move into lane 1, police believe her vehicle struck the front corner panel on the passenger side of [a] Volkswagen. Crash Team investigators believe this caused the Acura to lose control and subsequently travel into the work zone."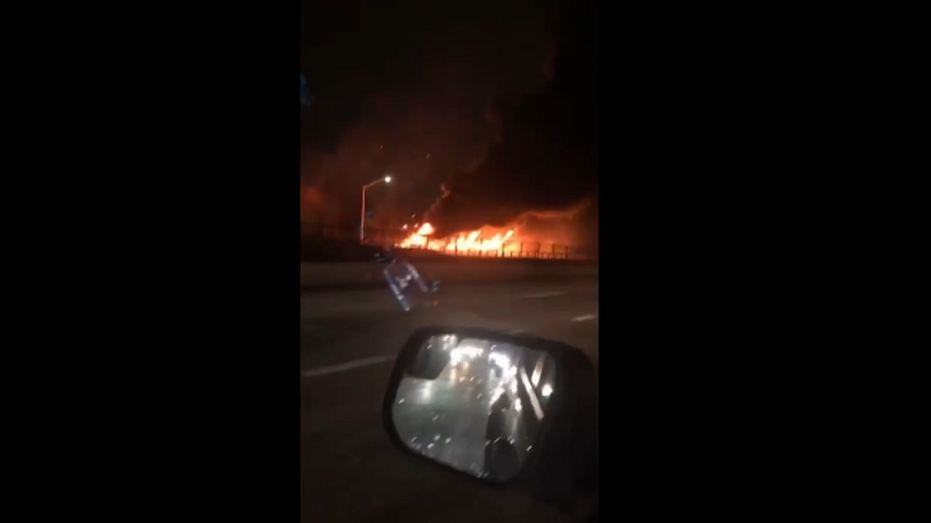 A driver traveling past the fire Friday morning following the crash on Interstate 795 in Maryland said "you can feel the heat." (Clifford Gambrill/LOCAL NEWS X/TMX)

The six victims were identified Thursday as Rolando Ruiz, 46, of Laurel, Carlos Orlando Villatoro Escobar, 43, of Frederick, Jose Armando Escobar, 52, of Frederick, Mahlon Simmons III, 31, of Union Bridge, Mahlon Simmons II, 52, of Union Bridge and Sybil Lee Dimaggio, 46, of Glen Burnie. 

CLICK HERE TO READ MORE ON FOX BUSINESS       

Lea was taken to a local hospital to receive medical treatment following the crash, while the driver of the Volkswagen, identified by police as 20-year-old Melachi Brown of Windsor Mill, did not report any injuries and remained near the scene after the collision.  

"Charges are pending the outcome of the investigation and consultation with the Baltimore County State's Attorney," Maryland State Police said. 

Source: Read Full Article