video
Defense sector a 'very solid' investment in uncertain times: Expert
Miramar Capital senior portfolio manager Max Wasserman explains why he is all in on General Dynamics on 'The Claman Countdown.'
The two largest U.S. defense contractors said ongoing supply chain challenges are hampering efforts to deliver on record weapons orders, driven by the conflict in Ukraine and tackling China's military expansion.
Lockheed Martin Corp. said worker shortages have hampered production, while the Pentagon has sped up purchases of weapons headed to Ukraine. Raytheon Technologies Corp. said it would be the end of the year or beyond before production of some materials returns to prepandemic levels.
The two companies have been the biggest beneficiaries of the $27 billion in military equipment committed by the U.S. to Ukraine, in terms of contracts awarded, though so far only $6.6 billion is under contract to industry.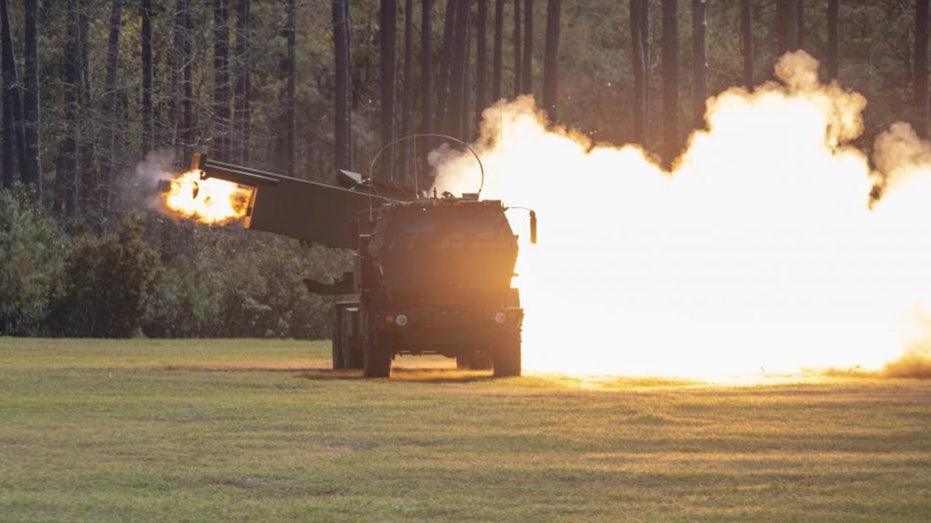 Marines with the 10th Marine Regiment, 2nd Marine Division fire a practice rocket from a M142 High Mobility Artillery Rocket System (HIMARS) during an Exercise Rolling Thunder 22-2 at Camp Lejeune, North Carolina, on April 4, 2022. (U.S. Marine Corps photo by Lance Cpl. Megan Ozaki / 2nd Marine Division / Fox News)

Executives have cited shortages of labor and components such as chips and rocket motors, as well as the need for more certainty that orders will follow if companies invest more to boost capacity.

OMNIBUS CONTAINS $11.9B FOR PENTAGON TO REPLENISH WEAPON SYSTEMS SENT TO UKRAINE

Defense sales at both companies fell last year compared with 2021, according to quarterly results released Tuesday.

"We've got the orders, we've got the capacity," Raytheon Chief Executive Greg Hayes said on an investor call. "We just need to bring the materials in." 

Jay Malave, Lockheed Martin's chief financial officer, said contracts are being awarded at a faster clip. "The DOD has accelerated their speed to get them where they want to be," he said.

Lockheed Martin, which also makes F-35 combat jets, has said it would take two years to double production of Javelin antitank missiles, co-produced with Raytheon, and Himars rocket launchers, both being widely used by Ukraine in its conflict with Russia.
President Joe Biden speaks during tour of the Lockheed Martin Pike County Operations facility where Javelin anti-tank missiles are manufactured, Tuesday, May 3, 2022, in Troy, Ala. (AP Photo/Evan Vucci / AP Newsroom)

Mr. Malave said suppliers stepped up to a faster production pace in the final quarter of last year, helping boost Lockheed Martin's quarterly sales to $19 billion, about 3% above the company's internal planning.

BLOCKADE OF TAIWAN BY CHINA COULD COST WORLD ECONOMY OVER $2 TRILLION, REPORT FINDS

"The whole value chain has been able to operate at a higher level," he said, though metrics such as on-time deliveries didn't improve much in the fourth quarter and labor shortages continue to pinch production.
Ticker
Security
Last
Change
Change %
LMT
LOCKHEED MARTIN CORP.
441.28
-2.00
-0.45%
RTX
RAYTHEON TECHNOLOGIES CORP.
99.345
+3.10
+3.22%
Lockheed Martin reported a net profit of $1.91 billion for the quarter ended Dec. 31, compared with $2.05 billion a year earlier. Per-share profit slipped to $7.40 from $7.47, just short of the consensus forecast of analysts polled by FactSet. Its order backlog topped $150 billion in 2022.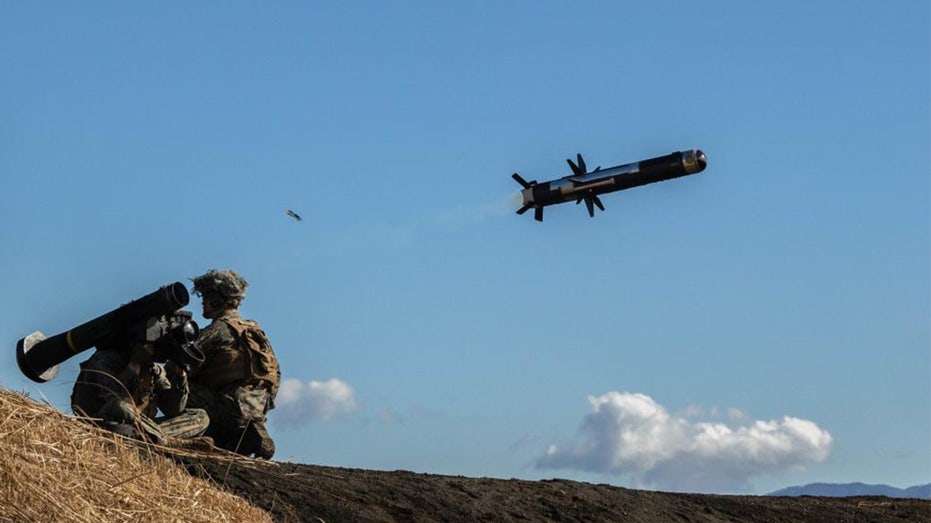 Marines with the 1st Battalion, 2nd Marines fire a Javelin shoulder-fired anti-tank missile during Exercise Fuji Viper in Japan on December 15, 2022. (U.S. Marine Corps photo by Lance Cpl. Jaylen Davis / 3rd Marine Division / Fox News)

Lockheed Martin left its existing guidance for flat sales in 2023 largely unchanged, forecasting a return to growth in 2024 when the supply chain improves.

GET FOX BUSINESS ON THE GO BY CLICKING HERE

Raytheon reported profit of $1.4 billion for the quarter ended Dec. 31, compared with $685 million a year earlier. Per-share profit rose to 96 cents from 46 cents, and sales climbed almost 6% in the quarter to $18.1 billion, lifted by commercial aerospace engines and parts.

Source: Read Full Article