video
Biden's FAA candidate does not 'understand aviation': Sen. Ted Budd
Sen. Ted Budd, R-N.C., joined 'Mornings with Maria' to discuss America's debt crisis, Biden's controversial FAA nominee, and Transportation Secretary Pete Buttigieg. 
President Joe Biden's choice for head of the Federal Aviation Administration withdrew his nomination after the Senate failed to gather enough support to move the appointment out of committee.
Phillip Washington, the CEO of Denver International Airport, was nominated for the position by the president in July 2022 but has faced opposition because of questions surrounding his qualifications.
Though Democrats and allied independents could have pushed Washington's nomination through, key senators on their side reportedly united with Republicans concerned over his lack of aviation experience, The Associated Press said.
Transportation Secretary Pete Buttigieg confirmed Washington's withdrawal in a tweet late Saturday night, calling him "an excellent nominee" while expressing disappointment with "partisan attacks and procedural obstruction."
BIDEN FAA NOMINEE STALLS IN SENATE COMMITTEE AS REPUBLICANS CALL HIM UNQUALIFIED
Phillip Washington, President Joe Biden's choice to run the FAA, has withdrawn his nomination, a setback for the administration that comes after the Denver International Airport CEO failed to gain enough support in the closely divided Senate. (AP Photo/J. Scott Applewhite)

Washington's fate appeared sealed last Wednesday when Senate Commerce Committee Chair Maria Cantwell, D-Wash., called off a scheduled vote at the last minute. Though Biden nominated Washington last summer, a committee hearing was not held until this month.

According to The AP, a person familiar with the matter who insisted on anonymity said Sen. Kyrsten Sinema, I-Ariz., was holding up the nomination and had indicated her opposition. Sinema, and Sen. Jon Tester, a moderate Democrat from Montana, have declined to share how they would have voted.

Republican senators publicly expressed concerns with his resume as his only aviation-related experience involves his position as CEO of the Denver airport, which he was appointed to in July 2021. Washington previously ran transit agencies in Los Angeles (2015-2021) and Denver (2009-2015).

In 2020, he led Biden's transition team for the Transportation Department, which includes the FAA. His role allowed him to oversee a panel of experts who advised the president on the direction of federal transportation policy and agencies.

Fox Business reached out to the White House for comment on the withdrawal but did not hear back by the time of publication.

REPUBLICAN SENATOR SLAMS BIDEN'S FAA NOMINEE: A 'COMPLETE MISMATCH'

On Saturday night, Sen. Ted Cruz, R-Texas, told The AP this is not the time to confirm an administrator who needs "on-the-job training" since the FAA is facing "significant challenges."

"The Biden administration must now quickly name someone to head the FAA who has an extensive aviation background, can earn widespread bipartisan support in the Senate, and will keep the flying public safe," Cruz said.

Cruz led the opposition against Washington and instead said acting FAA administrator Billy Nolen, a pilot with safety experience at three airlines and the FAA, would be a better nomination. He also said Nolen could win bipartisan support.

Republicans also noted finding Washington's name in search warrants related to a corruption investigation in Los Angeles, but Washington has said he did nothing wrong and has not been contacted by law enforcement.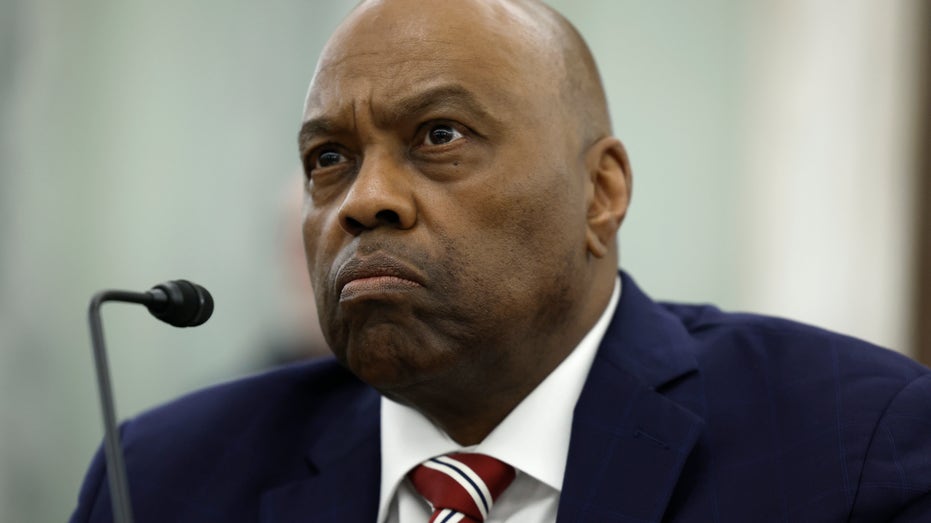 Denver International Airport CEO Phillip Washington speaks at a nomination hearing with the Senate Commerce, Science and Transportation Committee on Capitol Hill on March 1, 2023, in Washington, D.C. (Anna Moneymaker/Getty Images)

CLICK HERE TO READ MORE ON FOX BUSINESS

The FAA has not had a Senate-confirmed administrator for the past year.

Following a surge in close calls between planes this year and the technology failure in January that resulted in briefly canceling all takeoffs around the country, the FAA is working to reassure Americans that air travel is safe.

It is also working to repair its reputation after approving Boeing planes that crashed in 2018 and 2019.

The Associated Press contributed to this report.

Source: Read Full Article