Hong Kong (CNN Business)Tesla (TSLA) is once again cutting the price of its China-built Model 3s so that it can qualify for government incentives that are meant to encourage people to buy cars again.
A Model 3 now sells for a base price of 291,800 yuan ($41,318) before the subsidy is taken into account — 10% cheaper than before, the electric carmaker said Friday on Weibo.
With the subsidy, the cost comes to 271,550 yuan ($38,451). Tesla had to sell the car for less than 300,000 yuan in order to qualify for the government-funded discount, the company said in a statement.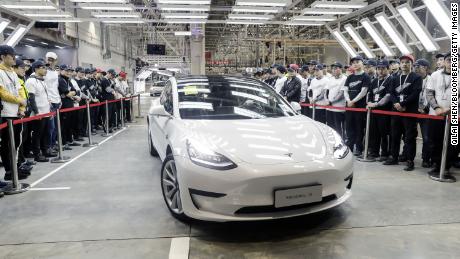 The Chinese government said in March that it would extend subsidies for new energy vehicles, such as electric or plug-in hybrid cars, as the coronavirus pandemic crushed demand in the world's largest car market.
Before the outbreak, the government planned to phase out subsidies by the end of 2020 in order to weed out underperforming companies. But electric vehicle sales have been suffering: Only 114,000 such cars were sold in the first quarter, a 56% drop compared to a year earlier. (Those figures exclude Tesla).
The government last week said it will extend the subsidies until the end of 2022, though will slowly phase out the amount it is offering until the handout disappears completely.
"We feel confident that … [the Model 3] will still be a vehicle that delivers a good gross margin," Tesla CEO Elon Musk told investors on a conference call earlier this week about the price cut in China.
China is an important market for Tesla. The company began delivering its first Shanghai-made Model 3 cars to the public there earlier this year after finishing construction on the factory in record time.
It has also been adjusting its pricing since those cars began rolling off the assembly line. The cost of the car was slashed in January just days after Tesla started deliveries.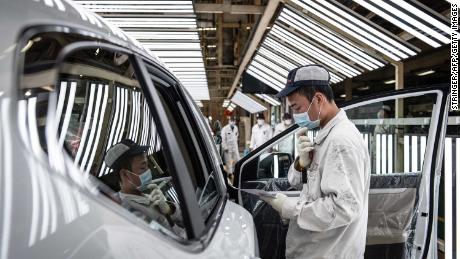 Electric car prices are under a lot of competitive pressure in China, according to He Xiaopeng, founder of the Chinese electric vehicle startup Xiaopeng Motors. He speculated last week on Weibo that Tesla would likely make its cars cheaper.
"Everyone should be prepared," he added.
Tesla executives have also hinted that the company's cars could get even cheaper. Tesla CFO Zachary Kirkhorn pointed out on this week's earnings call that it is already cheaper to make a car in Shanghai than it is at the company's factory in the United States.
"There's still significant opportunity left to take cost out," Kirkhorn said. "And so we'll continue to bring the price down and expand margin."
— Chris Isidore contributed to this report.
Source: Read Full Article