Sign up here for our daily coronavirus newsletter on what you need to know, andsubscribe to our Covid-19 podcast for the latest news and analysis.
U.S. Defense Secretary Mark Esper said the Pentagon will issue guidance on personnel wearing face coverings, after U.S. health officials recommended the step for Americans.
"We're going to move toward face coverings," Esper said on ABC's "This Week" broadcast. "We want to take every measure to protect our troops."
The directive will come Sunday, he said.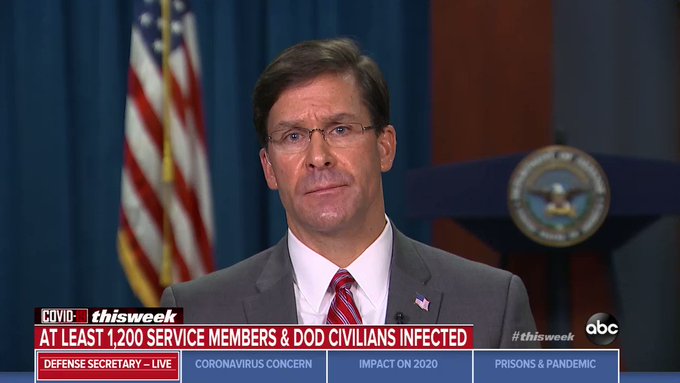 By playing this video you agree to Twitter's use of cookies
Esper said it's not always possible for troops to exercise social distancing by staying six feet apart, especially on submarines. The Defense Department has to take other measures, and Esper said he trusts commanders and officers to do that.
Officials with the U.S. Centers for Disease Control and Prevention are recommending the use of non-surgical grade cloth masks as a voluntary measure to prevent the spread of the coronavirus. But President Donald Trump said he did not plan to wear on himself.
"It's only a recommendation," Trump told reporters at the White House on Friday. "You don't have to do it."
Officials in hard-hit areas such as New York last week told residents they shouldcover their faces when they're outside, while also continuing to severe limiting time outside and practicising social distancing when they do.
Source: Read Full Article