video
TikTok bill shows power of China lobby on Capitol Hill: Brent Bozell
MRC President and founder Brent Bozell discusses whether Biden should ban TikTok after a House panel advanced a bill giving him the authority to do so.
FBI Director Chris Wray was grilled before the Senate Intelligence Committee "worldwide threats" hearing Wednesday regarding TikTok, affirming that the Chinese-owned social media platform wields the power to "drive narratives" and "divide Americans against each other." 
In a line of questioning from Sen. Marco Rubio, the lead Republican on the committee, Wray said the American people must understand "something that's very sacred in our country – the difference, the private sector and the public sector, that's a line that is nonexistent in the way the CCP operates." 
"Do you think it's valuable to look at how TikTok operates in China versus the U.S.? For example, in the U.S., kids are being encouraged to choke themselves. We've had kids die. In China, they're encouraged to focus on math and science and building the country," Rubio asked. "Is that an example of how two different versions of TikTok – one feeding, you know, our society poison and the other inculcating positive values – an example of how potentially or in reality TikTok could be used to damage our country?" 
DNI HAINES DEEMS CHINESE COMMUNIST PARTY 'LEADING AND MOST CONSEQUENTIAL THREAT TO US NATIONAL SECURITY' 
FBI director Christopher Wray testified before the Senate Intelligence Committee on March 8, 2023, regarding global threats  (AP Photo/Amanda Andrade-Rhoades / AP Newsroom)

"I think those are among many truth telling indicators that we should be looking at and assessing the national security concerns this poses," Wray responded. Rubio continued, "they can collect our data, manipulate information, poison the minds and feed garbage into the minds of millions of people." 

"If TikTok is bad for America and we've talked about all of these disadvantages and potential harm that's caused by it, should the fact that it is popular among people under the age of 35 be the reason why we don't take strong action against it?" Rubio contended. "This is a substantial national security threat for the country of a kind that we didn't face in the past… I would imagine that it is probably one of the most valuable surveillance tools on the planet." 

In another line of questioning from Sen. Michael Bennet, D-Colo., Wray explained that while TikTok is owned by ByteDance, an ostensibly private company, there is no distinction under Chinese Communist Party rule, as the government can still use the platform for data operations. 

SENATE'S BIPARTISAN RESTRICT ACT WOULD BLOCK TECH PRODUCTS LIKE TIKTOK MADE IN ADVERSARIAL COUNTRIES 
FBI director Christopher Wray warned Congress over the dangers of TikTok. (AP Photo/Amanda Andrade-Rhoades / AP Newsroom)

"If you were to ask Americans, would you like to turn over your data – all your data, control of your device, control of your information – to the CCP, most Americans would say, 'I'm not down with that,' as my kids would say," Wray testified. "It's the control of the recommendation algorithm, which allows them to conduct influence operation. It's the control of the software, which allows them to then have access to millions of devices," he continued, explaining the app's risks to Americans. "So you put all those three things together and again, come back to the starting point, which is this is a tool that is ultimately within the control of the Chinese government. And it to me, it screams out with national security concerns."

"If you look at the Chinese government's gobbling up of information and data and then the use of AI and other tools, ultimately supercomputing things that to marshal all that data to conduct targeting for espionage, targeting for IP theft, targeting for the all the things that I and others on this panel have been calling out about the Chinese government," Wray added, giving context to the CCP's reach.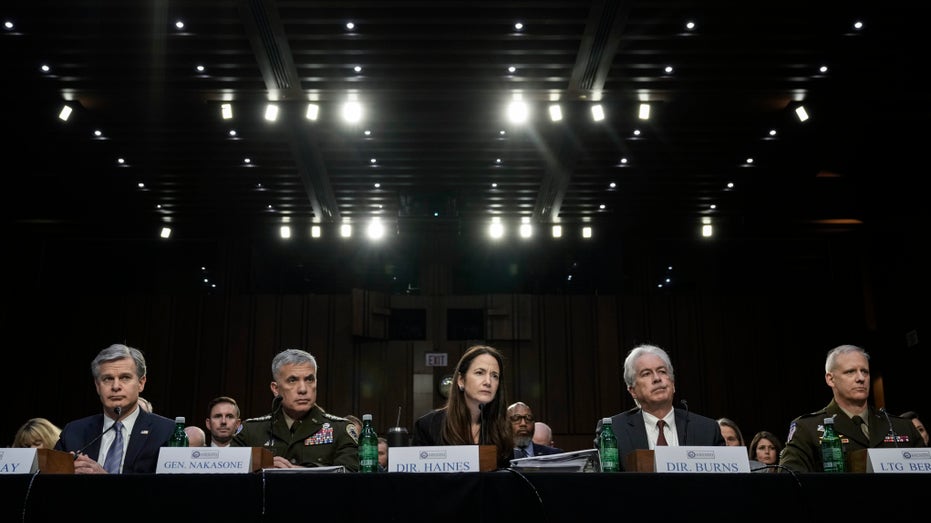 FBI Director Christopher Wray and the leaders of other U.S. intelligence agencies testified on a wide range of issues, including China, COVID-19 origins, and TikTok. (Drew Angerer/Getty Images / Getty Images)

"Data is the coin of the realm – who have the best information have the power – and that's what, that's what that enables them to. You just have to look at the Equifax hack, where they essentially stole the PII of half the population of the United States, and that's one Chinese government operation." 

On the risks to American youth, the senator told Wray, "My kids are about the same age as your kids and what I would say is people ought to find a different platform." 

GET FOX BUSINESS ON THE GO BY CLICKING HERE

"Americans don't need to spend three weeks out of the year on a platform that's run out of Beijing for Beijing's purposes. And we can do a better job than that," Bennet said. "I don't think the American people have had the kind of negotiation you were just talking about. Even with our own big data platforms in the United States, our big social media platforms, we have not had a negotiation about our privacy rights. We have not had a negotiation about whether your kids or my kids should have the benefit of the economics, the benefit of the economics of, their identities, or whether Mark Zuckerberg should have the benefit of their identities." 

Source: Read Full Article